Some people are perfectly happy with going through the motions. Some like the routine of ordinary, everyday life. Some like to keep things safe, simple, and expected. These people should stay as far away from the 2018 Nissan Kicks as possible. This sporty, compact crossover is ready to take 2018 by storm in a blizzard of style, substance, and attitude. It's time to kick complacency to the curb. This CUV is ready to become your one-size-fits-all, do-it-all machine, and it's ready to live out loud in screaming color. Here's what we can tell you about this upcoming vehicle from Nissan: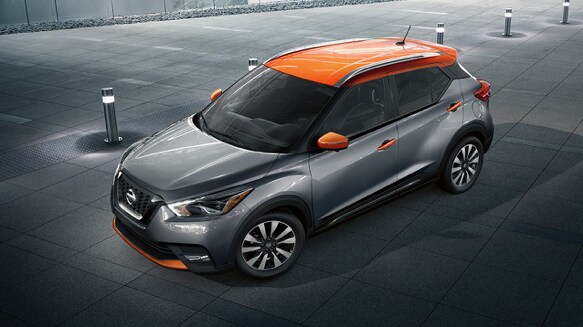 Design
This new Nissan is one of the most expressive models to date. Specifically designed to stand out from the crowd, this crossover features styling like no other. Some of its most striking features include Nissan's V-motion grille up front, headlights and taillights unique to the model, and an exaggerated roof design that makes the Kicks look like it has a "floating" roof. This vehicle was designed with the wheels as the primary focus for grabbing attention. Bold arches above the wheels as well as the dark trim around the car make this compact crossover stand out. This new model is easily recognizable as a Nissan, but it has its own distinct personality that makes it truly unique.
Interior
Not only is the exterior of the Nissan Kicks strikingly bold, the interior has the looks to make heads turn. Couple that with the advanced technology available and you've got one incredible compact CUV. The flat bottom steering wheel and accented stitching gives the interior of the Kicks a sporty and aggressive style. This CUV isn't just all looks though-this vehicle has ample space in the backseat for adult passengers, unlike other models in its class. The available premium audio systems will keep your favorite jams bumpin' while the seven-inch full-color display will let you control everything with ease.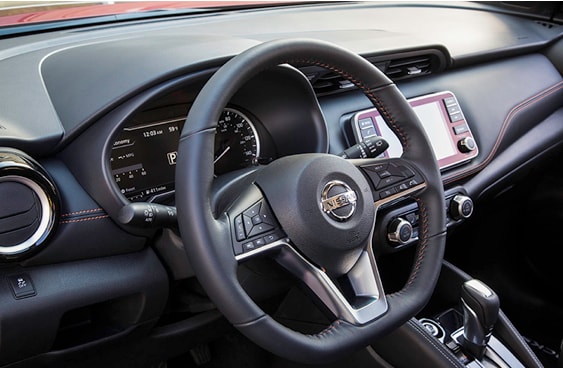 If you're looking to truly stand out in a crowded market of crossovers these days, look no further than the Nissan Kicks. It has the style, performance, and attitude to win over anyone looking for a new vehicle in its segment. We cannot wait for this 2018 to hit the market and share this incredible new vehicle with you all. Get more information on this model here, or feel free to browse our website for an incredible selection of Nissans that are available for you today.