Alright guys we have here a
2018 Nissan Titan
SL Midnight edition. This truck is bad. Alright, we got 390 horsepower, 5.6-liter V8. Alright, I'm so passionate about this thing because I actually personally drive one. Back and forth every day. Forty miles each way. Alright, thing does great on the highway but it's also great on the trails, camping or say you just had to move your mom into her new apartment like I just did, it's great for that too. 
So, the Midnight Edition is a special edition that Nissan does on many of their vehicles. Here on the Titan, it comes with a few extras. You're going to have your black Nissan badge in here. You got your tinted headlights. Just the combination of those two, it just looks awesome. Come over here and you can see you have these 20-inch black wheels. These are only on the midnight edition. I mean, it looks good. Alright, you got the black running boards and then more black badging right here. Alright, this is a one of a kind truck.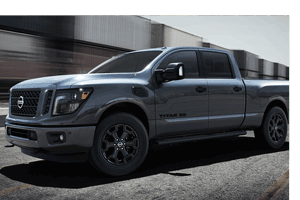 Alright, I want to show you a cool feature that's on the back here. So, say your hand are full and you got to open this truck bed, but you don't want it to slam down on you. So, I got a baby in my hand, I'm opening this thing with one hand. You can just let go and it'll let itself down. That's a feature that is on every single Titan. You got this tie down rail system in here both on the sides and on the floor. It's going to come with cleats. You can use that to secure any kind of load you are carrying in this thing. Okay, this is a five-and-a-half-foot bed. Fully lined from the factory. Okay, this is going to take a beating.  
Okay, here we are inside. Again, this is the Titan SL trim level. There's a few things that are going to be standard on it including these leather seats here. Okay, it's going to come standard with a navigation system. It's going to have your back up camera on the same screen there as you can see. With this nice little guiding line in the middle. That's really useful if you're ever attaching the truck to a hitch. Alright, it's going to have heated seats up front here. You're going to have a sensor control here. So, there are sensors all around the truck in the bumpers. If you're ever going to park, you're getting too close to something, it's going to let you know. You're never going to run into a pole or another car in the parking lot. Very useful. Alright, we have our four-wheel-drive controls here. You can go between two, four-wheel high which is good up to 60 miles per hour, and then four low. You only really need to use that in those situations when you're off road, in a mud pit or something because let's be honest. That's where this truck belongs. Alright, we have a couple other cool features here inside. Right here, we have a motorized rear window. Instead of manual like it is on my truck the SL is going to come standard with this here.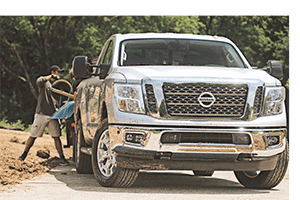 You hit this button right here, window's going to open for you. And this button right here, this is for Nissan Connect Services. So what Nissan Connect Services does is give you safety, security and convenience. Using an app on your phone, you can remote start the truck, you can set boundary alerts, curfew alerts, speed limit alerts, I mean there's a lot of great things that you can use this app for. 
Alright guys, back here you have a full towing set up. You got, your plugs for your trailers break lights and then this SL is going to come standard with this hitch on it okay. You can see the sensors that are worked into the bumper and these are all around the entire truck. That button that I showed you inside, you have the ability to turn these on and off. But, I do recommend keeping them turned on that way you are never going to run into anyone. I mean we can see that this truck is bad, like I said in the beginning alright. 
We have a great selection of Titans here at
Larry Miller Nissan Highlands Ranch
. My name is
Andrew
okay. I know all about these trucks. Like I said, I have one myself. Come in, let's go for a test drive. Ask for Andrew at the front door and we will go from there.